Bend Tooling, Inc. was published in the March 2018 issue of The Tube & Pipe Journal found here.
Bend Tooling, Inc. was published in the February 2018 issue of The Fabricator found here.
On April 1, 2016, Bend Tooling Inc. celebrated its 30th anniversary of making tooling for the rotary-draw tube-bending industry.
The Tube & Pipe Technology Group of the Society of Manufacturing Engineers has officially linked to the Bend Tooling Encyclopedia™ as the best resource on the Internet for rotary-draw tube-bending information.
Requests for Quotation
For price and delivery of our rotary-draw tube-bending products, including complete sets of tools, mandrel tooling and wiper tooling, please submit an online request.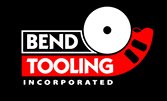 1009 Ottawa Avenue, N.W. Grand Rapids, Michigan 49503 U.S.A.
Toll-Free US & Canada:
1-800-284-8823
Phone Worldwide:
1-616-454-9965
Fax: 1-616-454-9958
Email: info@bendtooling.com
We Accept