Inserted and Solid-Body Wiper Dies with Components for Rotary-Draw Tube Bending
Bend Tooling's industry-leading inserted wiper die is our most popular product. Over the past thirty years we have perfected the design and manufacture of our inserted wiper line, and no one else comes close to our quality, price, and speed of delivery.
We also manufacture traditional "aircraft-quality" square-back solid-body wiper dies plus we have a resharpening service for these tools (including those made by our competitors). Square-back solid-body wiper dies are excellent for high-pressure tube-bending jobs that require the wiper to be set at zero-rake. However, they are relatively costly to purchase and then recondition as they wear.
Whether inserted or solid, all of our wipers have a fully machined feathered edge. Unlike our competitors, there is no manual honing or sanding of the feathered edge. Bend Tooling precision machines this essential attribute of the wiper die. Do not settle for less.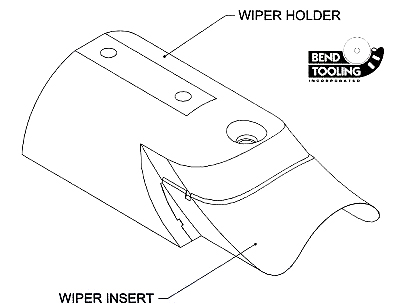 Our wiper tooling line features the following:
Standard inserted and solid wipers available for round tubing; solid-body "flat" wipers for square and rectangular tubing.
Standard tooling available for tube diameters from .875″ to 5″ (22mm to 125mm).
Precision machined feathered edge.
Simple-sweep feathered edge geometry for most jobs and off-set "aero" geometry for stainless, titanium, and other high-pressure tube-bending.
Dozens of standard mounting patterns (both inch and metric) are available at no extra cost.
Square-back alloy steel holders standard for inserted wipers.
Wiper inserts available in aluminum-bronze, hard-chromed, and leaded steel.
Inserts attach to the holders through the bore for easier replacement on the machine.
Sold as complete assemblies and individual replacement wiper inserts.
Wiper insert mounting screws available separately.
Understanding Wiper Set-up with Standard-Style Inserts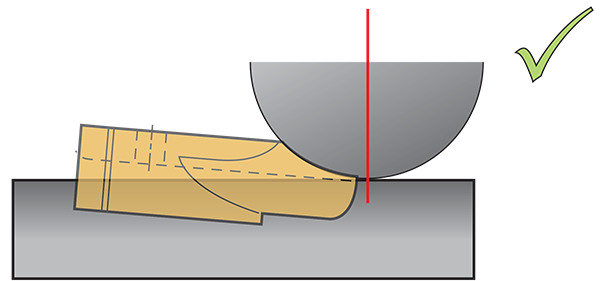 Standard-Cut Wiper Proper Positioning
Wiper tip raked slightly to ensure tip will not become pinched between tube and bend die. Full contact with bend die for maximum support.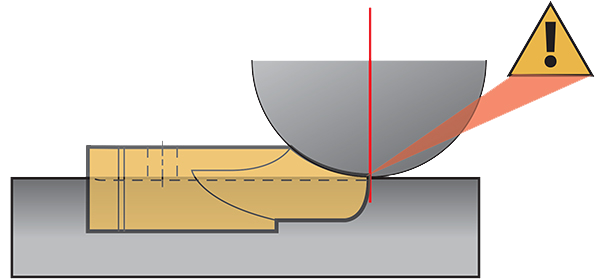 Standard-Cut Wiper Zero Rake Angle
Wiper tip may become pinched between tube and bend die. This may damage the tip or lead to imprint on tube.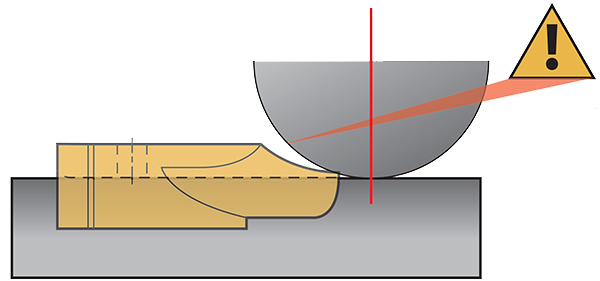 Standard-Cut Wiper Zero Rake Angle Pulled back from Tangent
No support to the heal of the wiper insert will allow the wiper tip to flex during bending. Wrinkles may form.
Understanding Wiper Set-up with "Aerospace" (Aero) Inserts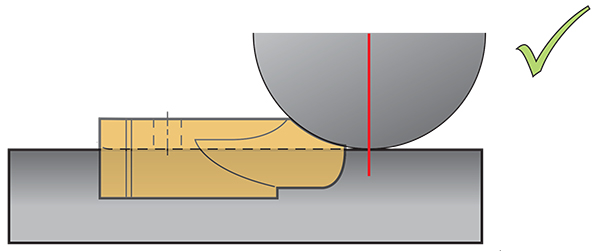 Aero-Cut Wiper Proper Positioning
Very little or no rake angle. Full contact with bend die for maximum support.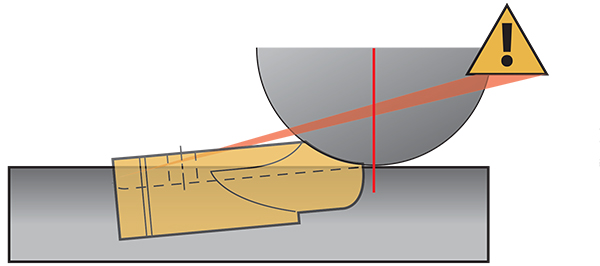 Aero-Cut Wiper Negative Rake to bring tip closer to tangent
Back of wiper insert may drag against tube causing marking. This may also lead to clamp slippage and wrinkles.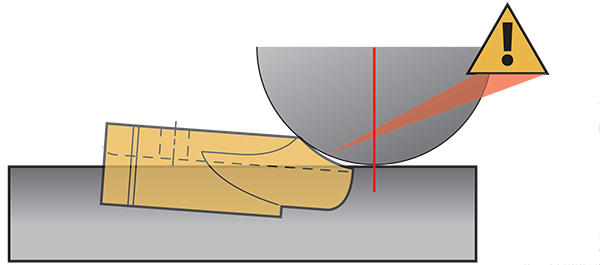 Aero-Cut Wiper Too much Rake Angle Too close to tangent
No support to feathered edge of wiper insert will lead to wiper tip failure.
Requests for Quotation
For price and delivery of our rotary-draw tube-bending products, including complete sets of tools, mandrel tooling and wiper tooling, please submit an online request.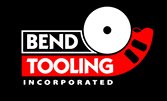 1009 Ottawa Avenue, N.W. Grand Rapids, Michigan 49503 U.S.A.
Toll-Free US & Canada:
1-800-284-8823
Phone Worldwide:
1-616-454-9965
Fax: 1-616-454-9958
Email: info@bendtooling.com
We Accept